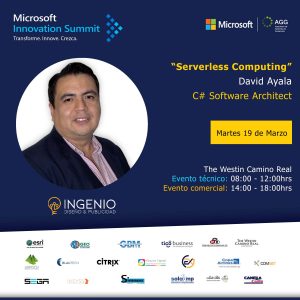 On March 19th, David Ayala, our Chief Technology Officer is going to be part of a select group of expositors on the 5th. Microsoft Innovation Summit at the Westin Camino Real Hotel in Guatemala City. The Microsoft Innovation Summit Guatemala, is an event hosted and organized by Asociación de Gerentes de Guatemala. This year the event is focus on IA and how to adopt new technologies to boost your company.
'Serverless Computing' is the topic David is going to talk about in the Technical Pre-Event at 8:30am. We at Ingenio, Diseño y Publicidad are very proud of David to be part of this important event. His knowledge about Microsoft solutions as Dynamics, SharePoint Server, Xamarin and others, and being part of the .Net Community in Guatemala, is part of the background David has.
Kudos David, we are pretty sure it will be a success.
For more information about this event, please visit: https://www.agg.org.gt/mis/